[09 MAR 99] COVENTRY CENTRE FOR INVESTMENT PRESS RELEASE
World Class Programme Radiates Success For Zunsport

The Midlands based automotive prototype engineering company whose mesh grille has given a distinctive look to a number of special models from Ford, Audi and Jaguar, now plan to develop its own range of specialist automotive accessories.

Coventry based Padtek, a supplier to some of the world's leading automotive OEM's has designed and launched its first after-sales radiator grille for the BMW marque, including the hugely popular Z3 sports car under the new Zunsport brand. The success of the project, has lead to the creation of ten new jobs.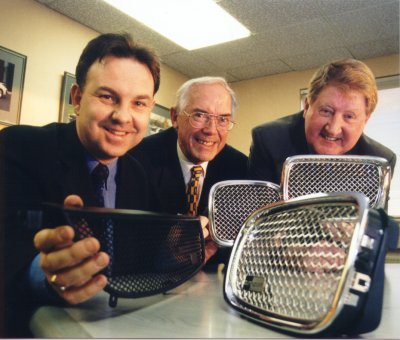 (LEFT TO RIGHT) MR KEITH HIGHAM, GROUP SALES MANAGER, PADTEK, MR BERNARD HOBSON, COVENTRY CENTRE FOR INVESTMENT AND COUNCILLOR NICK NOLAN, CHAIR OF THE ECONOMIC REGENERATION POLICY TEAM, COVENTRY CITY COUNCIL

The venture has moved into the fast lane with help of marketing consultancy advice and financial backing from Coventry Centre for lnvestment's (CCFI) World Class Manufacturing Programme. Working with Bernard Hobson from CCFI, Padtek were able to develop its marketing and advertising strategy for the Zunsport range.

The Zunsport Z3 Grille was born from one of Padtek's high profile stories. It was asked to manufacture the stylish radiator grille on the Jaguar XKR to distinguish it from its XK8 stable mate. That particular project formed the skills base on which the new BMW grille has been based.

Mr Keith Higham, Group Sales Manager said:
"We saw a business opportunity to add a product range that will balance the highs and lows of the prototype manufacturing demand, but did not have the internal resources to develop a marketing and advertising strategy. Coventry Centre for lnvestment's financial assistance and consultancy advice was a key factor in the successful launch of Zunsport.

"The marketing initiative has generated a substantial amount of business for the grille in the UK and considerable interest from around the world," he added.
Commenting on the success of the grant programme, Councillor Nick Nolan, Chair of the Economic Regeneration Policy Team said:
"This project highlights the innovative capability of the Midlands based automotive industry and in particular the multiskilled manufacturers in Coventry. Padtek is exactly the sort of company we aim to help - rich in skills and experience and looking to launch a new product into the highly competitive automotive aftermarket sector"
Padtek is part of First Automotive Ltd, an expanding engineering group which has supported many of the world's leading car manufacturers in both prototype manufacturing and programme management since 1981.
Companies wishing to participate in the World Class Manufacturing Programme should contact Bernard Hobson on 01203 832679 for further details.
More Information: Anne Parry or Fergus Hewitt 0121 233 2118