[27 OCT 00] COVENTRY CENTRE FOR INVESTMENT NEWS
New Valve Releases Pressure On Environment

An airbag which stops pollution from leaking into the country's waterways has been launched by two Warwickshire businessmen.

Envirovalve is being tested by Jaguar Cars and is now being marketed across the world.

The airbag can be inflated when a chemical leak from an industrial unit threatened the outside environment, containing the spillage.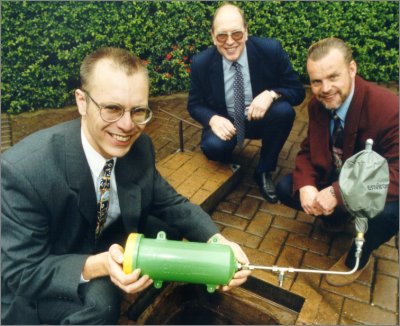 DAVE COLE, RICHARD HEGINBOTHAM AND PETER STARLEY WITH THE ENVIROVALVE
It is the brainchild of Leamington inventor Dave Cole, who is being backed by Exhall businessman Peter Starley.
Mr Starley was looking for a similar product, and was so impressed by the Envirovalve airbag that he decide to back it himself.
It is now being marketed with help from Coventry Centre for Investment.
CCfI manufacturing excellence officer Richard Heginbotham said:
"Dave has invented a fantastic product and with Peter's backing, they have been able to develop the idea to the point where it has become a reality.

"The manufacturing team at CCfI has been able to offer them practical business advice on how to market Envirovalve to a wider audience, and the future for them and their product looks very promising."