[09 MAR 01] COVENTRY CENTRE FOR INVESTMENT NEWS
New Factory Needed To Toast Euro Success

One of Coventry's European success stories has had to take on new staff and open a bigger factory after winning a big contract.

AST (Advanced Surface Treatments) Ltd, which specialises in providing electroplating to the automotive industry, has been chosen by AP Hydraulics to manage its metal finishing requirements.

The company has moved in to a new factory adjacent to its existing facilities and installed two new computer controlled electroplating plants.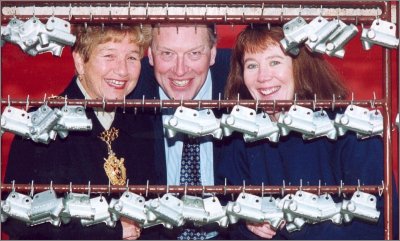 CLLR SHEILA COLLINS, RICHARD HEGINBOTHAM OF CCfI AND AST GENERAL MANAGER OLIVE LINDSEY
Based at two sites just off Deedmore Road in Wood End, AST is now the largest sub-contracting plating company of its type in Europe and has taken on six new employees to cope with the new 24-hour operation.
The contract win follows AST's participation in the Improvement Action Network programme, which is run by Coventry City Council's Centre for Investment (CCfI) and involves a number of companies in the city sharing best practice in the workplace.
Olive Lindsey, general manager at AST, said the partnership with CCfI had helped the company, as well as individual employees, to establish new relationships with other partners throughout the city.
She said:
"We were introduced to a number of like minded companies with the intention of sharing ideas and best practice in order to improve various aspects of our own business.

"The early results have far exceeded expectation and we are delighted with the way the business is operating at the moment."
She added that the business had continued to grow thanks to investment in new facilities and personnel.
"A huge amount of money - £1.5 million - has been invested in AST and as a result we have seen turnover increase by almost 50 per cent this year.

"Plans are in place to continue growing the business and we are looking at the possibility of setting up another plant in the very near future.

"The second factory has already increased our capacity enormously and we will be able to grow the workforce by a further 25 per cent", she added.
The company held an open day to celebrate the good news, which was attended by Lord Mayor Cllr Sheila Collins.
After touring the new premises and seeing the zinc alloy finisher in action, she said:
"It's great to see so many companies in the city working together and making such an impact locally and as far afield as Europe.

"We are committed to seeing local companies grow and take on more people and it's great to see such a success story, proving that our initiatives are making a real and positive difference.

"One of the most impressive aspects is that automation at AST has increased employment - an area which traditionally reduces labour levels."
Richard Heginbotham, manufacturing excellence officer at CCfI, said that the Improvement Action Network was one of the most popular services on offer to companies.
He added:
"This programme is specially designed to match up the expertise of different businesses with other companies in the city.

"The aim is for businesses throughout Coventry and Warwickshire to share their knowledge, resulting in individual and overall success for the region."