[18 MAY 99] COVENTRY CLOTHING CENTRE PRESS RELEASE
Debate On Impact Of Minimum Wage Legislation

Clothing manufacturers in the Midlands may be at risk of falling foul of recently introduced minimum wage rules, warns The Coventry Clothing Partnership.

Representatives from the sector recently covened for a major debate about the impact of the minimum wage legislation on the industry.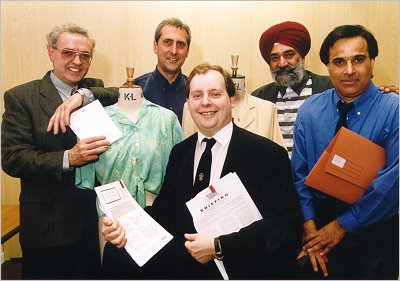 (LEFT TO RIGHT) DAVID TELLING, MANAGER OF THE COVENTRY CLOTHING CENTRE, DAVID GODFREY, MOMENTUM PARTNERSHIP, MR SAUDAGER NAGRA, CHAIRMAN OF THE COVENTRY CLOTHING MANUFACTURERS ASSOCIATION AND CHAN MORJARIA OF MORTEX WITH JOHN HALLETT OF BAND HATTON, CENTRE FOREGROUND

The event, arranged by the Coventry Clothing Partnership and hosted by the Coventry Clothing Centre, was designed to encourage firms to raise wage levels in a sector where, traditionally, remuneration has been low.

Held at the Coventry Clothing Centre's Foleshill base, the conference was part of a programme of support for clothing manufacturers funded by the European Social Fund through the ADAPT Community initiative led by Coventry University.

Guest speaker John Hallett of Coventry law firm, Band Hatton, provided an overview of the legislative framework, and the discussion was chaired by David Godfrey.

According to Mr Godfrey, the introduction of the minimum wage creates a new challenge for clothing manufacturers already facing increased global competition.
"The aim of the conference was to present the longer term benefits of rewarding staff properly for their efforts, thus creating a more motivated workforce," he said.

"By actively supporting and exposing them to the manufacturers, we want to see the development of this vibrant sector which can offer a range of job opportunities, not only for young people but also for returners to the work place."
Saudagar Nagra, chairman of the CADCMA, said that he was encouraged by the interest shown by manufacturers in the event.
"Our aim is to create awareness of best practice and expose firms to new and better ways of doing business. We are seeing a positive trend and the fact this conference attracted so much interest is evidence of our growing success," he added.
NOTES

Coventry Clothing Partnership is based at the Coventry Clothing Centre in Foleshill Enterprise Park, Courtaulds Way. In addition to the Clothing Centre, members include: Coventry & Warwickshire Chamber of Commerce, Training & Enterprise and Business Link, the city council's Coventry Centre for Investment and Coventry University.

MORE INFORMATION:
Jane Grant or Tracey Hewlett 01926 425533