[13 MAR 01] DAMON HILL LTD NEWS
Damon Hill Drives Into Warwickshire Car Firm

Former Formula One world champion Damon Hill has swapped the high octane thrill of the racetrack for the cut and thrust of business by buying a £22m Warwickshire car dealership.

Damon, who scooped the championship in 1996, has taken over the BMW franchise for Warwick with his manager Michael Breen and entrepreneur Nick Whale.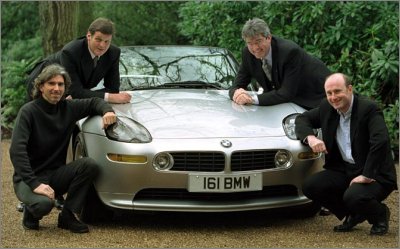 CLOCKWISE FROM BOTTOM LEFT: DAMON HILL, JOHN SODEN, NICK WHALE, MICHAEL BREEN
Damon Hill, John Soden, Nick Whale and Michael Breen
They have launched a new company called Damon Hill Ltd and have taken over one of BMW's flagship Midland dealerships and all its stock of new and used vehicles.
The 65 staff will remain with the business, which covers Warwick, Leamington and Stratford and has annual sales of £22 million.
Damon said:
"It's fantastic to be able to launch Damon Hill Ltd with such an excellent brand name as BMW.

"And it was very important to me to go into this business with a high calibre team of people - and that includes both the directors and the staff."
Nick Whale's company, Nick Whale Group Ltd currently has Lexus franchise dealerships in Birmingham and Coventry as well as Toyota franchise dealerships covering Coventry and Solihull.
The group, under the name Nick Whale Sports Cars, currently has a Lotus and Noble dealership in Birmingham.
The deal, which was finalised yesterday, cements many months of negotiation between Damon Hill and Nick Whale, who shares the driver's passion for racing and cars.
Discussions are already underway with other leading specialist car manufacturers to expand the new company's business in the region.
Damon added:
"It was Nick's unique business philosophy that attracted me most into going into business with him. He sees his staff and teamwork as the key to a successful business and has already proved that it does maximise profitability - people are more likely to do business with a company that's in a good mood!

"Coming from Formula One I know that effective teamwork contributes to the success of each individual - when there is good team spirit you get the best out of people.

"Hopefully having my name over the door will symbolise that the company stands for everything I aspired to in my career as a driver - fair play, competitiveness and a lot of hard work."
Nick Whale said:
"I believe this new venture with Damon will be an enormous boost to BMW in the region, and the motor industry now has a new name and face which is instantly recognisable and with a great reputation.
Damon Hill will be president, responsible for external customer events to include golf and corporate track days.
Nick Whale will be managing director responsible for the overall management of the dealership.
Michael Breen, Damon's manager will be commercial director, while John Soden, partner at Birmingham law firm Williamson and Soden, will be a non-executive director.