[31 MAY 00] DEELEY HOMES NEWS
Nat's Name Lives On In Housing

A housing development in Allesley Village, Coventry has been named after a local man to commemorate his work in the house-building industry.

Nat Norton, who passed away last December, joined Deeley Homes as a housing manager in October 1964 and rose to become managing director.

In his memory, the development in the shadow of Allesley Church in Birmingham Road has been named Norton Grange.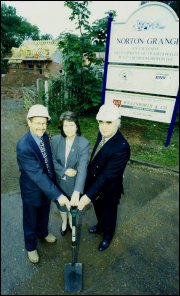 Coincidentally, the development is on the site of the former village lower school where his son John was a pupil in the early eighties.
He and his wife Brenda (right), daughter Ruth and son John, lived in Allesley Village for most of their married life and Nat was well known locally for his love of falconry.
Mrs Norton said:
"He loved birds of prey and I am looking after his three Harris Hawks with my son who is also a falconer."
Her husband and Peter Deeley worked together from the moment they left Lanchester Polytechnic (which is now Coventry University) where they became firm friends as students.
Mrs Norton, who cut the first sod on the site, added:
"It's a nice tribute to name this development after Nat."
Ten high-quality homes are being built by Deeley Homes and Clifford Emes Ltd of Tanworth-in-Arden on a site enclosed by mature trees and adjacent to the ancient centre of Allesley Village which has many listed buildings.