[06 APR 00] DEVELOPMENT TECHNOLOGY WORKSHOP NEWS
How The Tempest Works
BY ANTONY HOPKER

The Tempest uses a high-speed flail, 1.2 metres wide, to hack down vegetation that has grown over minefields planted during conflicts all over the world.

Once the plants, bushes and trees have been cleared it allows trained experts to scour the land with a metal rod looking for any mines.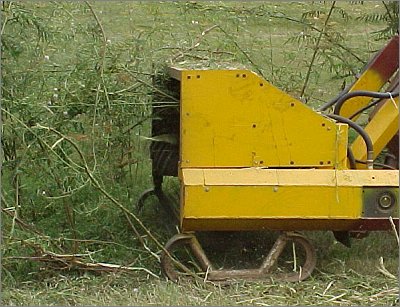 THE TEMPEST - CLOSEUP

The machine was first put into action in Cambodia but has since attracted interest from agencies working in Bosnia. The latest model has just been sent to the United States for evaluation by the army.

Millions of mines were left in the ground following the long civil war in Cambodia and hundreds of people are killed or injured every year from blasts.

This leaves a lot of agricultural land unusable because people cannot go on the land until it has been declared safe.

Previously the clearing job had to be done painstakingly by people using scythes. They had to work very slowly in case they activated a landmine.

Large, expensive machines can be brought in to clear the land, but they are not widely available because of the cost.

Engineers at DTW set out to build a cheaper machine that could be built and maintained in-country.

Their first plan was for a small radio-controlled device that was very cheap and could be blown up by a mine and easily replaced.

But following consultation with people who would be using the machines, the plans were upgraded.

The wheels are now designed to withstand a blast from an anti-personnel mine – the most common in Cambodia.

If it suffers damage from a more powerful anti-tank mine only the wheel will be destroyed.

Tests in Cambodia proved very successful, when the Tempest set off an explosion but carried on clearing unscathed.

The machine was formally launched in May 1998 by Independent MP and former BBC war correspondent Martin Bell, who is an anti-landmine campaigner.

Now the Tempest is in frequent use in Cambodia and helps clear land quickly, while other models have been ordered for Bosnia.