[06 APR 00] DEVELOPMENT TECHNOLOGY WORKSHOP NEWS
New Tempest A Real Blast
BY ANTONY HOPKER

Engineers in Coventry who have built a machine to help clear landmines say they have made improvements that will double its speed.

The Tempest, which clears foliage from over-grown fields so the land can be checked for mines, can now clear up to 500 square metres an hour.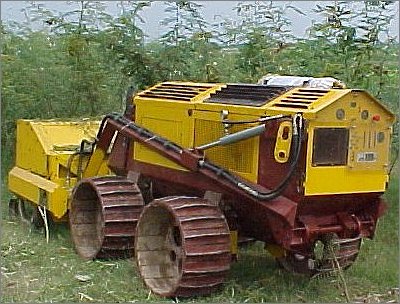 THE TEMPEST T3

The latest model of the machine designed and built by the Development Technology Workshop in Torrington Avenue, Tile Hill, has just been shipped to the American army for trials.

Defence officials ordered it as part of a review of the best ways of clearing landmines following a conflict.

Once the army has finished evaluating it the machine will be passed on to an organisation involved in clearing mines in one of the countries hit by civil war.

DTW Technical Manager Mick Prince said the dangers of landmines had been emphasised by the recent floods in Mozambique.

Acres of land which had been cleared are now blighted because the floodwaters moved millions of tonnes of mud.

It means that the agencies that have worked for years to cut the number of injuries and deaths from landmines must now start all over again.

Mr Prince said:
"It brings home the fact that it only takes one landmine in ten square miles to throw your confidence.

"If people cannot be sure that the land is safe then they will not use it.

"The problem in Mozambique had been contained. They were developing the economy and the numbers of injuries from landmines had fallen."