[26 AUG 01] EDGE DESIGNS NEWS
Edge Looks To Maximize In CRM Market

Coventry-based IT solutions provider, Edge Designs, has strengthened its position in the Customer Relationship Management (CRM) market with the acquisition of London-based Chaotix Ltd.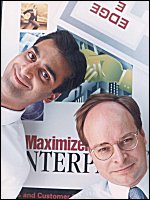 The deal with Chaotix, the former market leader in the supply of Maximiser Enterprise CRM software, will double Edge Designsí client base and enable the firm to offer an enhanced level of support across a range of IT-related services.
Edge Designs specialises in tailored software and systems integration to enhance applications of CRM products such as Maximizer.
According to Chris Edge, Edge Designís managing director, the recent move is part of an expansion strategy to strengthen its position in the UK market for the provision of dynamic CRM solutions.
He said:
"As pioneers in the CRM arena, we are keen to ensure we can help our customers develop their competitive edge.

"This latest deal follows the recent addition of Sales Logix solutions to our product portfolio, giving a range of solutions suitable for a sole trader up to companies of 250 employees.

"As CRM increasingly becomes the focus for more and more UK businesses, we aim to continue to build our share of this growing market."