[13 AUG 01] CG FOSTER & SONS NEWS
CW2000 Furnishes Fosters With IT Fast Track

A long-established Coventry soft furnishings company is sewing up the competition with the help of a local euro-funded project to encourage local firms to adopt new internet technology.

CG Foster & Sons, based in the Stoke area of the city, makes curtains and seating upholstery. The company signed up to CW2000 project in April this year, and is already on a fast track to sourcing new suppliers and winning new business.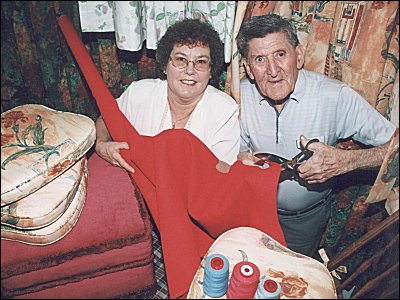 LORNA FOSTER, MACHINE ROOM MANAGERESS AT CG FOSTER & SONS AND 87-YEAR-OLD CYRIL FOSTER WHO FOUNDED THE COMPANY IN 1948
The firm, which was founded by Cyril Foster with his wife Joyce in 1948, counts universities, schools, hospitals and offices, as well private individuals among its customers. The Ministry of Defence is also a client with regular contracts to refurbish tank seats and bunk bed mattresses.
Cyril, who at the age of 87 still comes to work most days, has passed the day-to-day running of the business to his two sons, John and Steve.
John's wife Lorna is machine room manageress. She says before they became involved with the CW2000 project, they didn't even own a computer!
"Although we are a successful traditional firm, we realised that we couldn't stand still and had to embrace new technology at some stage.

"The business benefits of introducing a high-speed connection to the Internet are already proving enormous. We can now source special materials, such as industrial fabrics, more quickly and easily and have discovered suppliers we didn't even know existed!"
Lorna says the CW2000 project team's expertise has also proved invaluable.
"An electric typewriter and a fax machine was the limit of our technical capability! To suddenly have 24-hour Internet access through ADSL is a huge leap forward and we needed advice and support throughout."
"We particularly want to develop the e-commerce side of the business and will be actively looking to generate orders from new and existing customers through our first website, which is currently in the development stage," says Lorna.
She added:
"It may seem strange to other businesses that it has taken us until 2001 to install our first computer. But at least we are now aware that this is the way forward and that joining the 21st century will not only increase our efficiency, but open up new areas of work."
CW2000 is a multi-million pound project led by Coventry University and Coventry & Warwickshire Chamber. It offers eligible firms in Coventry and Warwickshire a heavily subsidised IT package that includes hardware, software, technical advice, a high-speed connection to the Internet, and a free two-year subscription to an Internet trading service.