[22 DEC 00] FRANCIS AND GAYE JEWELLERS NEWS
Cross Of Nails Proving A Worldwide Hit

A pendant replica of Coventry's Cross of Nails is proving so popular that the range is being extended and continued into next year.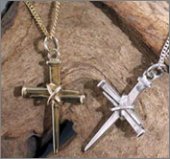 City centre Jewellers Francis and Gaye in Cathedral Lanes Shopping Centre made the silver and gold replica of the cathedral's symbol earlier this year.
Demand has been huge, with people buying them as gifts to send to relatives and ex-pats, as well as for themselves.
Roger Francis said demand had exceeded all expectation, and more were being made for next year.
He said:
"We are delighted with it. It has proved very popular.

"A lot of people have bought it because they said they were in Coventry when it was bombed and remembered the cathedral being destroyed.

"A lot have been sent overseas to Canada and Australia. We've produced a leaflet explaining about the Cross of Nails that goes in the box, and that has also gone down well."
As well as continuing to sell the pendants next year, Mr Francis revealed they had received special orders for other versions of the design.
He said:
"We've got a couple of orders for them to be made in platinum and 18 carat gold, which we never expected, and we've been asked to make them as cuff-links, as a brooch and earrings."