[05 JAN 99] THE HARRIS SIGN GROUP PRESS RELEASE
Sign Companies Merge and Expand

A business started 21 years ago in a Warwickshire farmhouse has just completed a £500,000 expansion and take-over programme.

The Harris Sign Group, now Coventry's largest sign manufacturer and supplier, has been formed by a merger of Signs of the Times and Harris Signs.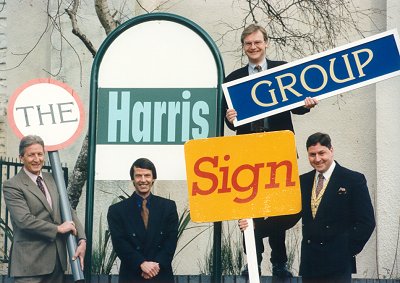 DIRECTORS OF THE SIGN HARRIS GROUP (FROM LEFT) CLIVE WRIGHT, DEREK HARRIS, STUART AINSCOW AND FRED WRIGHT

Signs of the Times, started as a sideline by Clive Wright at his south Warwickshire farm, has taken over Harris Signs to expand into new areas and bought new premises in Springfield Road.

The two companies now trade under The Harris Sign Group banner, building on a 75 per cent share in the estate agency sign market in the Coventry area.

The group produces a wide range of signs from a simple doorplate to the largest factory signage and is an expert in vehicle graphics, combining state-of-the-art computer production techniques with traditional hand sign-writing.

Recent commissions include the city centre "famous people" banners in the heart of Coventry, a 40ft replica sailing ship sign in Cardiff Docks and the restoration of the famous Broadgate elephant.

Mr Wright, one of four partners in the business, said:
"It has been a busy and momentous time for the company. We were very successful in our market niche – servicing around 135 estate agent offices in the area – but we wanted to diversify further and heard that Harris Signs was up for sale.

"Harris Signs was well known and highly respected with a wide customer base in other market areas so the potential benefit of bringing the two firms together was clear from the start.

"We managed to sell the two sites in Kingfield Road and Burnsall Road quite quickly and moved into new headquarters which will allow us to expand still further.

"The move has enabled us to bring all the design and manufacturing units under the same roof and allows us to handle 750 vehicles a year for lettering and graphics."
The company, which has just completed re-signing 250 vehicles for Siemens and Marconi, won a £25,000 DTI Regional Selective Assistance Grant for guaranteeing the jobs of the Harris Signs staff and now employs 26 people.
Mr Wright, who first ran the company on a part-time basis, was joined by partner Derek Harris in the formative years.
Mr Wright's brother Fred, who had worked in the liquid petroleum gas trade, took over as managing partner last year and was joined by Stuart Ainscow in April, to spearhead the group's marketing activities.
Mr Wright added.
"We feel we are fully geared up to meet our customers' ever-changing needs and are pleased to have found the accommodation we wanted near the city centre. All our staff are local people and we hope the business will continue to grow."