[26 MAR 01] HARRY SHAW NEWS
Plea To Hunt Historic Milk Bottle

The founder of a Coventry travel firm is appealing for help in tracing a piece of his company's past.

Harry Shaw is desperate to find a milk bottle from an early business venture which laid the foundations for his coach and travel company, Harry Shaw City Cruiser.

Almost everybody in the city recognises the company name and the famous orange coaches, but the fact that Harry Shaw's business enterprise began as a milk delivery round to in the 1950s seemed to have disappeared into the realms of history.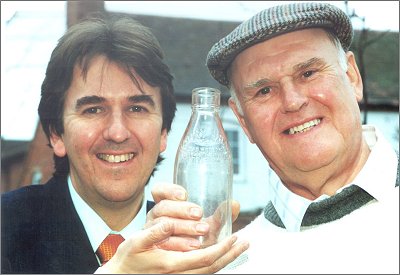 ROBERT AND HARRY SHAW WITH AN EXAMPLE OF THE MILK BOTTLE THEY ARE TRYING TO FIND
But when Robert Shaw, son of Harry and director of Harry Shaw City Cruiser, was given one of the original milk bottles for his 40th birthday last year - it turned the clock back to the early days of the company.
And now Robert is determined to make his father's wish come true by laying his hands on another bottle - so much so that he will give a free weekend break for two to the first person who delivers one to a Harry Shaw City Cruiser outlet.
He said:
"There must still be some about, especially in the Binley area where most of the old GEC workers used to live.

"Ever since I was given the bottle for my birthday it has sparked off nostalgic discussions about how the business started and how it put us where we are today.

"Dad stopped the milk deliveries in the 1960s when he set up the travel company, but it was those early years that laid the foundations for Harry Shaw City Cruiser.

"He would be absolutely delighted if he could get one for posterity and we will give a free weekend away to whoever gets it to us first."

And Robert is also keen to get hold of photographs of the early days of the travel firm.
He said:
"I've been taken over by a bit of a history bug and would love to see some snaps of the first coaches.

"If anyone has some photos I would be very grateful if they would send them to us for us to make a copy and then immediately return.

"We will make a donation to Snowball for every picture that is brought to us that dates back before 1975."