[18 SEP 01] HARRY SHAW BUSINESS COMPUTERS NEWS
HSBC Uploads A New Driver

A Warwickshire computer firm has expanded its technical division with the appointment of a new consultant.

Harry Shaw Business Computers has added the talents of Philip Edis to its staff to deal with growing demand after less than two years in business.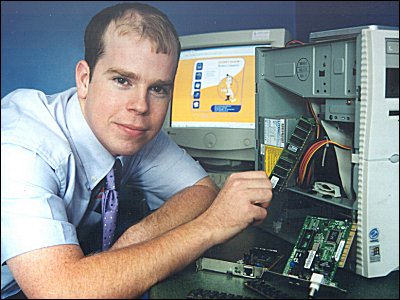 PHILIP EDIS
Richard Hooper of HSBC said:
"We have added some well established local and regional companies to our client list and offer full support after we have installed equipment.

"Philip's appointment will help us continue to deliver the best possible service long after the original system has been installed as he has an excellent grounding in this industry."
Philip joins the firm after five years with Coventry based Primrose Computers in the same role as technical consultant.
He studied computing at college in Devon before coming to Coventry in 1996 and is pleased with his latest move.
He said:
"Harry Shaw Business Computers is a very forward thinking company which is looking to invest in staff on a technical level.

"It is a relatively young firm which is aiming to grow over the next few years and I am pleased that I am now with a company that I can help to expand."