[11 SEP 01] KIRBY SMALE NEWS
Coventry Accountants Get Up To Speed

For tax advice, accountancy and auditing in Coventry
and the West Midlands visit Walker Thompson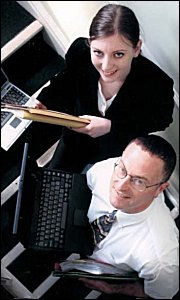 After experiencing the benefits of the high-speed CW2000 internet service, a Coventry based Chartered Accountants are keen to spread the word to their clients.
Kirby Smale are working with the CW2000 team to formalise ways of introducing their clients to the project. Paul Chapman, a partner of Kirby Smale said:
"As 'trusted introducers' CW2000 are keen to involve accountancy firms in the communication process. At Kirby Smale we shall be contacting all our clients about CW2000 to encourage them to take part."
Paul has already advised several of his owner-manager clients to investigate CW2000 as an ideal way of getting their IT system up and running. He said:
"We have had a very positive experience of dealing with CW2000 and are benefiting enormously from the high speed ADSL link."
Kirby Smale was established in 1923 and therefore has several decades experience of advising owner-managed and family-run businesses, sole traders and partnerships.
Kirby Smale previously accessed the Internet through a traditional dial-up modem connection. Paul said:
"There is no excuse in today's fast pace business world for slow communication and the ADSL link provided by CW2000 allows us to deal with client email queries quickly and efficiently.

"The Internet has also become a valuable source of information for us and we often log on to Government websites such as the Inland Revenue and Customs and Excise, to access legal information."
Further down the line Kirby Smale intend to network their ADSL service to all the companies PCs, as well as develop their own website.