[08 NOV 01] LEARNING AND SKILLS COUNCIL NEWS
NVQ Fills The Gap For Dentists

Dental practices in Coventry and Warwickshire are smiling from ear to ear after the launch of a new qualification that aims to help them retain young dental staff.

The NVQ (National Vocational Qualification) level 3 in Oral Health and Dental Care has just been launched at Coventry Technical College, and already 40 young people have signed up for the qualification.

Taking place at the College, and funded by the Learning and Skills Council (LSC) Coventry and Warwickshire, the NVQ level 3 in Oral Health and Dental Care course will cover all aspects of dentistry from health and safety to skull and heart physiology.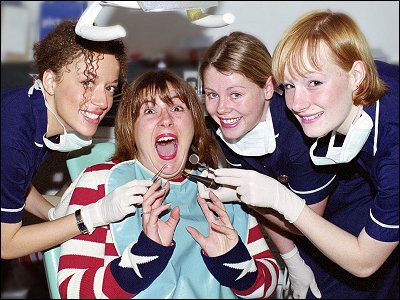 CLAIRE CORFIELD, PERFORMANCE AND STANDARDS ADVISER AT THE LEARNING AND SKILLS COUNCIL COVENTRY AND WARWICKSHIRE (SECOND FROM LEFT) IS AWAITING TREATMENT FROM DENTAL NURSES COREEN SMITH, 19 FROM HENLEY GREEN (FAR LEFT) AND ANNIE COOPER, 17 FROM NUNEATON (FAR RIGHT) OVERSEEN BY TRAINEE NVQ ORAL HEALTH/DENTAL CARE ASSESSOR JANE KINSELLA

Coreen Smith, 19, from Henley Green, based at the Light Lane Dental Practice in Coventry, is one of the first dental nurses to start the new course.

Coreen said:
"A lot of young people leave school and become a dental nurse for a couple of months, and then leave the profession because of the lack of training, but now there is a formal qualification available which will improve overall standards and help retain nurses.

"Dental practices will now be able to ask for either qualified nurses or make sure new staff study for this NVQ qualification, helping to encourage young nurses to develop their career in dentistry."
Added Claire Corfield, performance and standards adviser at the LSC Coventry and Warwickshire: "In order to retain quality young dental nurses there needs to be structured training plans for young people who want to join the dental service.
"The new NVQ qualification will help recruits to stay in the profession, and after their qualification they can progress to dental hygienist and then move towards managing their own practice or becoming a community dental therapist."
For any details about the NVQ level 3 in Oral Health and Dental Care contact Diane Grover at Coventry Technical College on 024 7652 6747.