[14 FEB 01] LODDERS SOLICITORS NEWS
Help For Elderly Increased At Law Firm

Warwickshire solicitors Lodders have expanded their specialist community care team to give extra help and advice to the elderly and vulnerable.

Sonia Wain, who previously worked for Lodders as legal assistant to the company, is to take on a key community liaison post.

She will keep in touch with elderly people in their own homes, hospitals and residential care or nursing homes.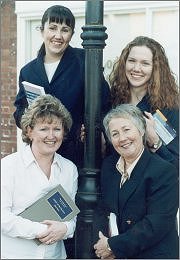 Sonia (pictured, bottom left) joins a specialist community care team which already includes two legal specialists in matters affecting elderly people - Lucy Handley from Lodders' Stratford-upon-Avon office and Fay Venables from Lodders' Henley-in-Arden offices, as well as Wendy Smith, also based in the Stratford office, who specialises in financial matters.
Lucy said:
"Sonia's appointment enables us to keep in close contact with many of our elderly clients, particularly those who have no relatives to speak up for them, without incurring the expenses of legal fees.

"She can give them a voice, help to sort out issues locally and can identify when matters need to be raised with either the legal or financial specialists."
She added:
"As a practice we provide help and advice on a full range of topics which elderly people and their families have to address - including the often distressing issues of discharge from hospital procedures and Court of Protection matters.

"In addition, Wendy's specialist training enables us to provide a further dimension to our work with vital advice in care funding, and other relevant issues."
Lucy Handley is a member of the national committee for Solicitors for the Elderly (SFE), and together with Fay Venables set up and coordinates the local SFE group.
SFE is committed to providing and promoting a comprehensive range of high quality legal services for older people and their families and promoting best practice amongst solicitors.