[22 MAR 01] LODDERS SOLICITORS NEWS
Edwards Rolls Over Sporting Crowd

Former Welsh rugby star Gareth Edwards has entertained guests a sporting dinner with stories from his long and eventful playing career.

More than 300 diners attended the latest Stratford-upon-Avon Business Sporting Club dinner at the Stratford Moat House hotel, sponsored by one of the top Stratford law firm Lodders.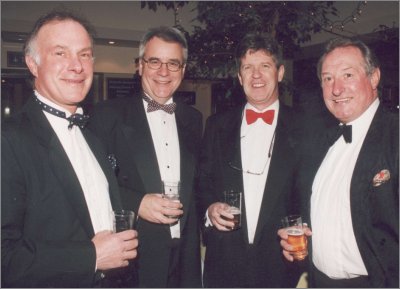 LEFT TO RIGHT: DAVID LODDER,(LODDERS), JOHN LIVERTON, (JONES & SHIPMAN), VICTOR MATTS (LODDERS) AND GARETH EDWARDS OBE
Nigel Phillips, senior partner at Lodders who started the dinners along with sporting personality, David Duckham, MBE two years ago, said:
"This event, which is held twice a year, has proved to be extremely popular with businesses based in Warwickshire and the West Midlands, as it offers the opportunity to network as well as be entertained."