[06 APR 01] LODDERS SOLICITORS NEWS
Lodders Conveyed To Another Place

South Warwickshire law firm, Lodders, has relocated to new premises in Stratford-upon-Avon due to the rapid expansion of the firm.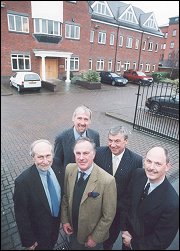 After being based in two separate offices in Stratford, the firm has moved to new premises in Arden Street in the centre of the town.
Previously occupied by a health insurance company, Number Ten, Elm Court is a modern 10,000 sq ft office building, which will bring together the 8 partners and 56 staff who had formerly worked from offices in Henley Street and Warwick Road.
Partner, David Lodder, said the relocation would benefit both clients and staff:
"By consolidating all our staff and services under one roof, we will be able to offer clients an even better, more efficient service from one central location. Our new attractive modern offices will reinforce our reputation as a dynamic forward-looking firm backed by 150 years of experience."
He added:
"Lodders is a thriving firm with ambitions to expand further, and we expect a period of significant growth over the next five years."
This is the first of two moves for Lodders this year. Towards the end of summer the Shipston-on-Stour office will relocate to purpose-built premises located across the road from the existing office in Church Street.
The firm also has an office in Henley-in-Arden.