[27 APR 99] LUCKMANS PRESS RELEASE
Luckmans Partner Steps Down After 33 Years

Coventry chartered accountant Tim James is going from servicing accounts to accounting for service in a dramatic career change.

The partner in leading city accountants Luckmans is stepping down after 33 years with the practice – and plans to open a hotel on the Isle of Wight!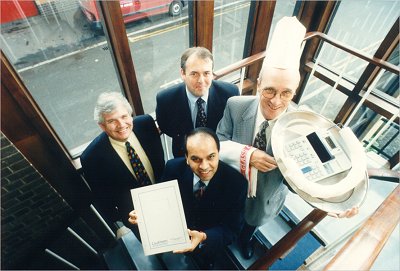 (LEFT TO RIGHT) BRIAN OWEN, TERRY FRANKTON, TIM JAMES, ASH RISHIRAJ

James, who joined Luckmans straight from school, has been a partner for 24 years but has been planning his move into the catering world for several months.

He said:
"My wife is from Thailand and used to work in hotels. We have always wanted to run our own hotel and now we have the chance.

"I have had a very good career with Luckmans but just felt it was time for me and the practice to move on. Luckmans has a great future and I wish them all the best."
Mr James will be replaced by Ash Rishiraj, who has joined partners Brian Owen and Terry Frankton at Luckmans from leading Coventry based safetywear manufacturer Farlane Johnson.
Mr Rishiraj, who trained with international accountants KPMG, has also spent five years working as a consultant for Coventry Chamber of Commerce, DTI and Business Link Birmingham.
He said:
"Business Link approached Luckmans offering business advice and I dealt with the company as a result. I presume they liked what I had to offer – I suppose this is the ultimate in taking up the service!

"Luckmans is a very well established and respected name in Coventry and having worked alongside Brian and Terry and I am delighted to be on board.

"We are looking to enhance the services offered to existing clients and potential clients by forging closer working relationships, aimed at improving the performance of their business into the new millennium.

"Having worked very closely with many owner-managed and owner-controlled businesses, we are in a position to help their businesses realise their full potential.

"It is our intention that we are not only seen as giving advice but 'getting our hands dirty' in implementing our recommendations and thus achieving common goals. We want to work with businesses rather than on them."
MORE INFORMATION: Advent Communications 01203 633636