[10 JAN 01] MARCONI NEWS
Marconi Gets Green Light For Jobs Spree
BY ANTONY HOPKER

Work is shortly to begin on Marconi's £200 million new site that will bring thousands of jobs to Coventry and provide a spaceage gateway to the region.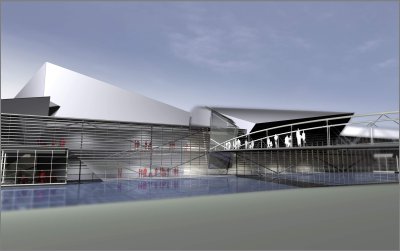 THE SPACEAGE BUILDING WHICH WILL APPEAR SOON AT THE EDGE OF COVENTRY
The company announced last year that it would be leaving its home in New Century Park for a bigger site on a disused airfield at Ansty to allow for expansion.
Planning permission has now been given for the development, and work is expected to start in a fortnight.
More than 60 per cent of the 5,000 staff who will eventually be based at the site will be working in research and development of new optical fibres. The rest of the jobs will be taken up with marketing staff and support staff.
Of these jobs, 2,500 will be new positions. Marconi is currently souring universities and colleges in search of electronic engineers to recruit.
The firm has been based at New Century park in one guise or other since 1946 when GEC was based there.
That site will be redeveloped and it is expected that 2,000 new jobs could be attracted there. There will also be more than 1,000 construction jobs created by the three-year building project at Ansty.
A Marconi spokesman said the scale of the 870,000 square feet development meant the company was making a major commitment to the area.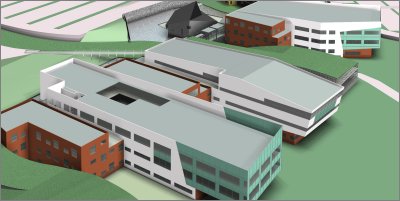 ANOTHER VIEW OF HOW THE SITE WILL LOOK
Talented engineers in high-value jobs will be attracted to the area, and once they are settled then it would make it impossible to move elsewhere in the country.
Both Rugby and Coventry councils have backed the development, and Rugby Borough Council last week gave planning permission for the scheme.
The first phase should be completed by summer 2002, with all the staff being in place the following year.
The spokesman said the impact the development would have on the surrounding area would be huge. He said:
"If you consider that the M6 is like the gateway to the Midlands it will be the first thing that people see of Coventry from the motorway.

"Previously it was some run-down gasworks."
The high-tech development will have a feel similar to a university campus.
Chill-out zones will be built for staff to have a break and a chat with colleagues away from the intensity of their work, and there will be shops and other facilities.
Villagers from Ansty will be encouraged to use these facilities, because the security will be so high-tech that there will be no fences.
Instead, staff will have electronic cards to give them access to the buildings, meaning the open areas can be left unguarded.
SEE [15 MAY 00] NEW MARCONI JOBS CONFIRMED