[10 APR 01] MARCONI NEWS
Marconi Job Cuts Hit Coventry

Telecomms giant Marconi has rocked the city with the announcement of major job cuts.

The company, which has bases in Coventry in Stoke and Foleshill, is making 3,000 people redundant worldwide with half of those falling in the UK. The cuts are part of a company-wide restructuring that will see the business operations reorganised into three divisions.

It has not been confirmed how many will go from the two Coventry sites but local MP Bob Ainsworth has been told that the figure is likely to be around 300 out of local workforce of 2,000.

The news of the job losses comes as a bitter blow to Coventry City Council after Marconi's announcement a few months ago of the development of their new research and development site at Ansty.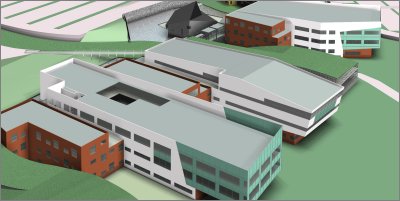 THE PROPOSED NEW RESEARCH AND DEVELOPMENT CENTRE AT ANSTY
Marconi has confirmed that the new multi-million pound Ansty site is not under threat from the current restructuring.