[08 DEC 98] MAYFLOWER VEHICLE SYSTEMS PLC PRESS RELEASE
Low-Volume Cell Provides Lean Manufacuring Capability

A unique £3M low-volume cell, commissioned by specialist Coventry based engineering company Mayflower Vehicle Systems, is producing high-quality, short-run pressings for customers in the automotive industry.

The cell is the first of its type in the UK and will process both steel and aluminium panels.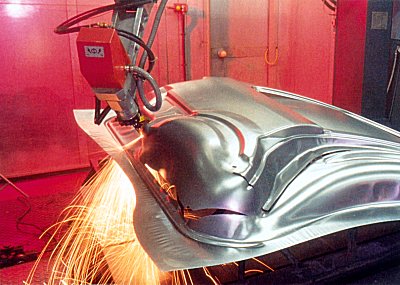 A UNIQUE £3M LOW-VOLUME CELL, COMMISSIONED BY SPECIALIST ENGINEERING COMPANY MAYFLOWER VEHICLE SYSTEMS, IS PRODUCING HIGH-QUALITY, SHORT-RUN PRESSINGS FOR CUSTOMERS IN THE AUTOMOTIVE INDUSTRY

It is the latest piece of capital expenditure put in place by Mayflower, which in the last five years has invested £20M transforming the Coventry site into a world-class supplier of value-added, niche vehicles to the passenger car and truck industry.

The new cell has been installed primarily to provide high-quality structural and surface panels for the Rolls-Royce Motor Cars' Seraph programme. But it will also play an important part in the further development of Mayflower as a supplier of high-quality specialist pressings.

At the heart of the low-volume cell is a new press line comprising two large hydraulic presses and two mechanical presses. An added feature is a Trumpf L5005 laser-cutting unit which can cut both steel and aluminium. The purpose of the laser is to trim the panels and eliminate the need for trim tools. Use of the laser reduces tooling investment and increases flexibility.

In 1994, Mayflower Vehicle Systems was selected by Rolls-Royce Motor Cars 'to support the company in the production of a new range of bodies', Winning this contract owed much to the successful creation of a Core Engineering centre at Coventry which allowed Mayflower to make an attractive proposal to Rolls-Royce Motor Cars.

A new unique and total process was devised that enabled Mayflower to go from clay model to production tooling, faster and more economically than conventional practice would allow. The process involved laser scanning, fast surfacing, panel formability simulation and toot try-out simulation to enable tool design to be developed rapidly and accurately.

The new low-volume cell is an intrinsic part of the contract with RollsRoyce Motor Cars. However, capacity of the cell is such that the Seraph project will account for only half of its output; the balance of the capacity will be made available to other automotive industry niche players seeking similar projects.
"Mayflower has pioneered laser trimming of body panels,"
said Gordon Boyd, Managing Director of Mayflower vehicle Systems.
"With a laser there is no need to invest in trim tools, which typically can account for 15 to 20 per cent of a tooling project,"
declared Boyd, noting that the company's Aston Martin DB7 project followed a similar route.
"We are achieving very tight tolerance bands with laser trimming. We have established a low-cost tooling route that gives high quality results," Boyd added.
The Trumpf L5005 carbon dioxide laser has a 1.75kW laser source. The laser system is equipped with two pallets - while one pallet is under the laser beam the other is either being loaded or unloaded. The pallet change time is 20 seconds.
The effective pallet area is 3m x 2m; sufficiently large enough to accommodate a complete body side for a passenger car. And among the components being processed in the cell are: the main floor, roof and closures such as bonnet, doors and boot lid, as well as various other panels.
According to Boyd the Rolls-Royce element of the low-volume cell programme is just the start of Mayflower's venture into increased niche work activity.