[21 JUL 98] PALMER HARGREAVES PRESS RELEASE
Chocs Away!Advertising and marketing communications agency Palmer Hargreaves is allowing clients to share in the sweet taste of its success.

The Leamington-based firm has sent all its clients a gold box of chocolates to celebrate the six gold awards it scooped at the industry's recent Cream prize-giving night.

More than 100 boxes of the chocs have been dispatched after the agency's campaign for Continental Tyres swept the board and it shared the top prize for best agency.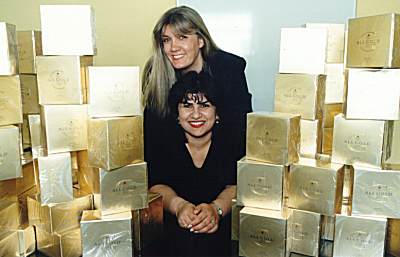 DEBORAH STANLEY [ABOVE] AND ACCOUNT ADMINISTRATOR SARNJIT CHAUDHRY OF PALMER HARGREAVES
Marketing manager Deborah Stanley said:
"It was a golden moment in the history of Palmer Hargreaves – and we thought we would give clients a golden moment of their own.

"We have sent the boxes to our clients in the Midlands just to remind them how much creative talent there is in the region and especially in this agency.

"We have all been on a high since the awards night and it has just spurred everyone on to try to repeat the success."
But the agency has made sure there have been no sugar highs – the chocolates have been kept under lock and key to avoid temptation!
MORE INFORMATION: Advent Communications 01203 633636