[29 JUN 99] PROMOTIONS TEAM PRESS RELEASE
Promotions Team Wins Long Term Contract

A Leamington promotions company is celebrating its 10th anniversary by signing a new long-term contract with the biggest firm in the industry.

The Promotions Team, based in Park Street, has agreed a 12-month deal with Caribiner International, the world's leading events production company.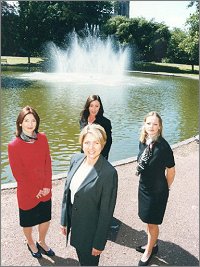 The Promotions Team will supply conference and promotional staff for all Caribiner International's UK events, and some in Europe.
Managing Director and founder Ann Ballinger said:
"It is the perfect birthday present for us and we are very pleased. It is unusual to have a 12-month deal in this industry because production companies usually work from event to event.

"Not only does it allow us security and continuity but also indicates how highly regarded we are within the industry. It allows us to build a close working relationship with the client which helps both parties."
The company has just supplied 77 staff to Caribiner International for a major Lloyds TSB conference at the National Exhibition Centre attended by 5,000 delegates.
Jeremy Taylor, Caribiner International's Head of Logistics, said The Promotions Team had beaten off top-class competition to win the contract.
He said:
"We sent out fictitious briefs to four agencies asking for a costing, a written presentation and a presentation in person. The Promotions Team came in with the most competitive costs and the best understanding of what is a very specialised industry.

"I have worked with them for around seven years and they are the best in the industry. They are now our sole supplier of promotion and conference staff and we know we will receive the highest level of service."
In the past The Promotions Team has staffed the G8 Conference in Birmingham as well as other regular conferences at the ICC and the QE2 Conference Centre at Westminster.
Miss Ballinger added:

"Our company slogan is "More Than Just A Pretty Face" and that is the reason for our success.

"We hand pick our staff for their ability to handle a multitude of events. They are often the public face of our clients and it is essential that the highest levels of professionalism are maintained.

"We employ staff from all over the country but a high proportion come from the Midlands and many have been with us from the very start.

"At the core of the agency there is a wealth of administrative experience so the client knows they will get a very reliable and top quality service. That has given us an edge over other agencies."