[04 NOV 98] PROMOTIONS TEAM PRESS RELEASE
The Promotions Team Serves Up A Tasty Treat

Shoppers in West Bromwich were given a taste of the products on sale at a for local bakery, thanks to the Leamington-based Promotions Team.

The two-day event saw four staff from The Promotions Team giving out "Wish you were here" postcards designed to entice people into Braggs bakers' shop in the High Street.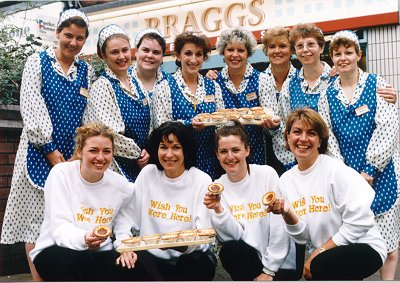 THE PROMOTIONS TEAM WITH BRAGGS STAFF

Each postcard could be redeemed against four different products including sausage rolls, jam doughnuts and custard tarts - the shop's best-selling line.

And just to prove that nothing sells like hot cakes, the Promotions Team handed out no less than 5,000 cards to local people.
"Around 15 per cent of the vouchers were redeemed at the shop, which is about three times the average return rate for this type of promotion,"
said Braggs sales director David Marsh.
He added:
"The Promotions Team were excellent. People in the street sometimes shy away when you try to hand out leaflets, but these girls have such good personalities and are so easy to talk to that they made the event a real success."
The Promotions Team also supply staff to work at conferences and on exhibition stands for clients including Jaguar Cars, Vauxhall and Microsoft.

MORE INFORMATION: Jane Grant, PR Support 01926 624994