[26 JAN 01] RAFTERY NEWS
Nick Associates With The Best Accountants

Chartered accountant Andy Horvath has been appointed Associate at one of the area's leading chartered accountancy practices.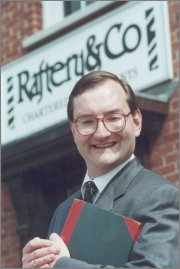 Mr Horvath (right), aged 34, joined Raftery & Co as audit manager 18 months ago and now advises a wide range of corporate clients for the Solihull firm.
Managing partner, John McDonald, said:
"Andy has become well known to many of our clients, to whom he has been able to offer support at a time when they are seeing a great deal of legislative and regulatory change.

"We are confident that in his new role, his skills and commitment will help us strengthen our position in the market."
Andy, who has an honours degree in Accounting & Finance, qualified as a chartered accountant in 1992.
With more than 10 years experience in the profession, he joined Raftery & Co where he is responsible for the day-to-day running of the audit and accounts department, as well as his own portfolio of clients.
On his new position, he said:
"Raftery & Co is a well-established Solihull firm with a growing client base across the Midlands and an evolving range of services to offer both private individuals and our business clients.

"This is an exciting time in the firm's development, and I look forward to helping strengthen our growing links within the local business community."