[20 MAY 99] RAGDOLL PRODUCTIONS PRESS RELEASE
Teletubbies Reach Agreement With Wal-Mart

Ragdoll Productions (UK) Ltd., the creators and owners of the Teletubbies, and The itsy bitsy Entertainment Company, marketers of the Teletubbies in the Americas, have reached an agreement with Wal-Mart Stores, Inc. to settle the action brought against Wal-Mart for infringement of copyright, it was announced today.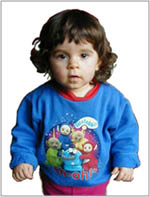 In settling, Wal-Mart has agreed to pull all "Bubbly Chubbies" items off shelves and destroy them as well as to provide The itsy bitsy Entertainment Company and Ragdoll Productions (UK) Ltd. information on the manufacture and distribution of such items. The action continues against the alleged manufacturer and or identified distributor.
"Our concern in filing this suit was not about money, but in protecting the integrity of the Teletubbies trademarks which we have associated with products that insure the highest of safety and creative play standards possible. Wal-Mart has always been a very strong partner in supporting Teletubbies, and they have continued to work with us in identifying the manufacturer and any distributors we identify"
said Kenn Viselman, President, CEO and Chairman of the Board of The itsy bitsy Entertainment Company.
"It is our commitment to provide non-violent and safe choices which contribute to our very young fans becoming responsible adults".
Ragdoll Productions was founded by acclaimed children's television program maker Anne Wood in 1984 with the motto: "Ragdoll Works For Children". Worldwide, Ragdoll-produced series for pre-school age children are shown in more than 60 countries, and in the UK are screened by the British Broadcasting Corporation and the Independent Television Network. Titles include Teletubbies, Rosie and Jim, Tots TV, Brum and Open A Door, and recent awards include the BAFTA (British Emmy) Award for Best Children's Series, Grand Prize at the 24th Japan Prize International Contest in Tokyo for an episode of Teletubbies, and the award to Anne Wood of Fellowship of the Royal Television Society. The company is based in Stratford upon Avon, England.
The itsy bitsy Entertainment Company was launched to offer creators of unique properties a strong, dedicated partnership for production, distribution, licensing and marketing. Founded in 1995 by Kenn Viselman, The itsy bitsy Entertainment Company is known for inspiring "Safehaven Entertainment™ " - programming and products that maintain the highest levels of consideration for positive parenting while enhancing children's lives. The company's philosophy is "To be free to learn, Children must be free to dream!" The itsy bitsy Entertainment Company is a member company of North Coast Entertainment, a subsidiary of Handleman Company (NYSE:"HDL").
More Information:
Chris Bates 0121 472 6739
Carole Thomson 01789 404100