[03 APR 01] RASE NEWS
Royal Show Cancelled

Britain's top agricultural show, The Royal Show, has been cancelled due to the Foot and Mouth crisis.

The annual farming showpiece, which normally attracts around 180,000 visitors each year, was due to take place at Stoneleigh's Royal Agricultural Showground from 2 - 5 July. Apart from the Second World War this will be the first year it has not been held since 1859.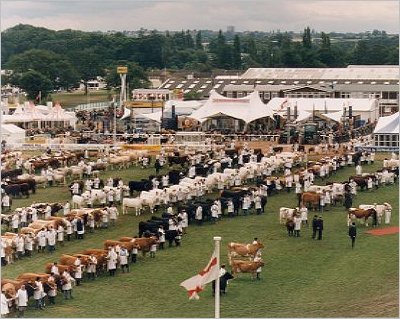 Organisers of the event, The Royal Agricultural Society of England, reluctantly decided to halt this year's show because they did not want to increase the risks of the disease spreading by encouraging the movement of livestock exhibits.
RASE's Chief Executive, Mike Calvert said:
"We wish that we never had to make this decision. We have considered running the exhibition without livestock, but felt this would be inappropriate as the Royal Show has farming at its core and remains first and foremost an agricultural business exhibition for the whole industry".
But he added a note of optimism:
"I have no doubt that there will be an agricultural industry at the end of this, and the inevitable changes will bring opportunities. Although we cannot stage the Royal Show this year, the RASE is determined to help the industry look forward and plan for the future.

"To kick-start this we will be holding a high-profile business event to unite all sectors of the farming industry. This Exhibition, AgriVision - focusing on the future of farming, will give a boost to the industry and provide a forum for British agriculture and food production."
The Society will be holding AgriVision - focusing on farming's future, on Wednesday 5th and Thursday 6th December 2001 at the NAC, Stoneleigh.