[17 SEP 01] REGALO NEWS
Local Gift Company To Get The Big E

A Coventry gift shop is launching into the world of e-commerce with the help of a local euro-funded internet project.

Regalo, meaning gift in Spanish, trades from Cannon Park Shopping Centre in Canley selling top quality gifts to businesses and individual consumers.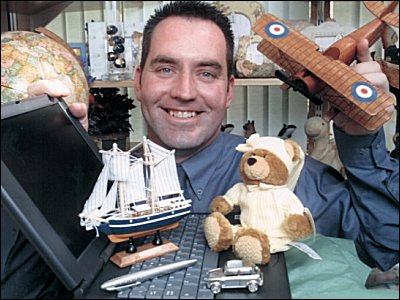 David Neil Ltd, the trading name of Regalo, is the brainchild of Neil Callagher, a carpenter by trade and David Boneham who took early retirement from The Royal Mail.
Regalo who has only been trading since April 2000 has already exceeded their expectations and new larger premises are being sought. The company is also hoping to replicate this success in the world of virtual gift selling on the internet.
Neil said:
"Due to the high sales to date we intend to expand the corporate gift side of the business through e-commerce."
The company is being assisted by the CW2000 internet project in setting up and developing a full service e-commerce website selling high quality corporate gifts, such as cut crystal, rosewood gaming boxes, globes and much more.
David added:
"The long term aim is to link the new site to our current website www.regalogifts.co.uk and to develop that into another e-commerce venture for individual consumers.

"The CW2000 project is allowing us to take advantage of European funding to get our e-commerce dreams off the ground."