[28 APR 99] SHORTLAND HORNE PRESS RELEASE
Retired Headmaster Returns To His Old School

Mr Reg Foster, the oldest former head of the Wolston High School, near Rugby, was the guest of honour at an open day organised by estate agents Shortland Horne and builders Beazer Homes who are creating a housing development on the site of the former school.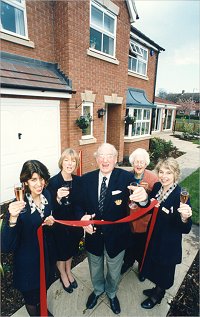 Mr Foster, who was in charge at the school between 1959 and 1980, cut the ribbon on the show home – which stands on the site of the school's former bike sheds!
Beazer are building 57 houses on the site, currently priced between £74,950 for a two bedroom property up to £187,000 for a five bedroom detached house. Seventeen have already been sold or reserved.
Mr Foster said:
"It has certainly changed since I was last here. The school closed down in 1992 as a result of cut-backs. When I first came here there wasn't a single house for sale in Wolston but the village has grown since then.

"I read that Shortland Horne were trying to trace the oldest headmaster and had lots of phone calls from people who had seen the article in the papers. It was nice to hear from so many of them."
Mr Foster said around 500 former staff and pupils attended a reunion when the school shut down and former pupils were among those who came to view the development over the weekend.
Chris Crump, Shortland Horne's new homes sales manager, said several had looked around houses.
"The weekend was a great success and several people mentioned they had been at the school. We were delighted Mr Foster could attend and are very grateful to him. He had a lot of memories of the site after being so long associated with the school and took a great interest in the houses."
MORE INFORMATION: Advent Communications 01203 633636