[17 SEP 01] SPRUE AEGIS NEWS
Coventry Innovators To Set The World On Fire

Local fire safety innovators, Sprue Aegis, are looking to go global with the help of the CW2000 internet project.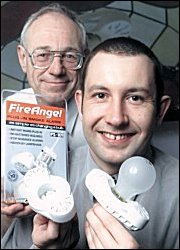 Sprue Aegis was formed three years ago by two Coventry University design and engineering graduates, Nick Rutter and Sam Tate.
Earlier this year the company launched FireAngel, the world's first plug-in smoke alarm. It will be on sale in the UK shortly through major DIY and high street stores.
Sprue Aegis hit the headlines by raising £1.2 million through floatation on OFEX, a trading facility for small companies, a move in anticipation of FireAngel's launch.
Nick Rutter said
"People tend to find conventional smoke alarms difficult to install and maintain, and our design has addressed these problems. The user simply removes the light bulb from any ceiling light, fits the FireAngel, and reinserts the bulb. The battery is automatically recharged when the light is on."
The FireAngel is produced in China, which was the initial reason for approaching CW2000.
Nick said:
"Having a round-the-clock reliable internet connection is essential for our business in terms of global communication and CW2000 provided exactly what we needed as part of a cost effective package.

"Apart from the email facility, we use the internet to source material samples for new products to download specification sheets. In time we aim to have a separate e-commerce site to take advantage of increasing on-line trading opportunities."
Sprue Aegis are also adding to their FireAngel range, by introducing other fire safety products such as the FireAngel fire extinguisher. This product is due to be produced in France and is the only known domestic fire extinguisher that can be used on chip pan fires.
The company are also planning to roll out their products to Europe and the USA next year.
David Gillingham, Pro-Vice Chancellor of Coventry University, part of the CW2000 partnership said:
"Sam and Nick have worked incredibly hard to attain the success they have. It is particularly pleasing that they are both Coventry University graduates and that CW2000, a University backed initiative, has played a significant part in their achievement."