[24 OCT 00] TEAM NATIONAL NEWS
Team National Offers Bonus To Improved Drivers

A Coventry company has been praised by the Institute of Advanced Motorists (IAM) for putting its employees through the country's top driving test.

Team National, an air conditioning specialist, has offered its 34 workers the chance to become members of the IAM and will even give anybody who drives a company car a £200 bonus when they pass their test.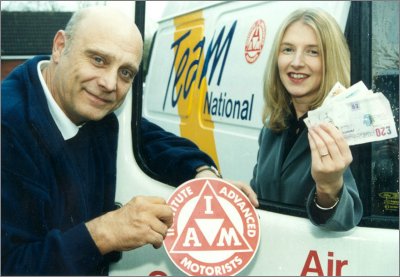 JOHN HUGHES WITH CLAIRE HOUGH OF TEAM NATIONAL
Company secretary Claire Hough made the move in a bid to improve driving standards and increase efficiency.
She said:
"Motorists who pass the IAM Advanced Driving Test have to show a higher level of road competence than is required for the standard test.

"They use the cars more efficiently thus saving fuel and there are also savings for us with reduced insurance spending and lower running costs.

"There is the added value that we want Team National vehicles to be driven as safely as possible and with complete courtesy to other road users.

"I have taken the test and found it very useful indeed. We first offered the opportunity to those with company vehicles but we had so many requests across the company that we opened it up to everyone.

"We will fund their training and membership of the Institute and they will take the test during their own time.

"The first employee should be ready to take the test in March and Team National hope to have their scheme completed by summer 2001."
John Hughes, chairman of the Coventry and District Group of Advanced Motorists said:
"It is very refreshing to hear a company adopting this attitude and there is no doubt that they will reap the benefit in many ways.

"A number of large companies put their drivers in for the test after training from IAM Fleet but I don't know many that get a financial bonus for passing!

"The Team National drivers will be paired up with observers from our Coventry Group and then tested locally - we wish them all success."