[20 JUN 00] THE CHAMBER NEWS
Past And Future Of Cycling Meet For Cyclethon

The inventor of the modern bicycle would have been amazed to see what his great-grandson was handling the other day.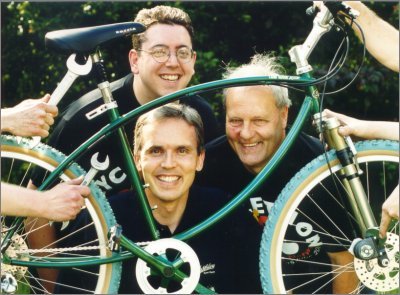 THE BIKE IS HANDED OVER BY ADRIAN WILLIAMS, OF PASHLEY'S (BOTTOM) AND
JK STARLEY IV (RIGHT) TO CYCLETHON CO-ORDINATOR STUART JACKS (TOP)
John K Starley was handing over a state-of-the art bicycle to the organisers of the Coventry and Warwickshire Cyclethon.
It was a far cry from the basic frame that his great-grandfather John Kemp Starley invented in Coventry in 1885.
JK Starley, whose Rover company later switched to making cars, would have been impressed by the technical innovations on the two-wheeled machine.
The hi-tech bicycle will be used in a draw for donations for the charity race, which is being held on Sunday.
The Land Rover XCB D-26, which has front suspension, hydraulic disc brakes and a 21 gear transmission system, was made by Stratford-based Pashley Cycles.
Managing director Adrian Williams said:
"This region has made an immense contribution to the evolution of the cycle and we are pleased to donate one of our specialist hand-built models to help raise money for local good causes."
For every £10 donated towards the event, fund-raisers will get a ticket for a chance to win the bike, worth £1,500.
The Cyclethon, organised by Coventry and Warwickshire Chamber and the Coventry Mercia Round Table, gives money to local projects including Coventry Age Concern's advocacy project, Walsgrave Hospital's neo-natal ward and a campaign to eliminate prostate cancer.
Mr Starley, aged 65, a former chief electrical engineer in the Royal Navy, who now lives near Stratford, said he could remember a childhood spent tinkering with cycle parts.
He said:
"My father, JK Starley III would give us various bicycle parts and I can clearly recall owning a Rover tricycle and making a bike with a steering wheel instead of handlebars.

"It is somewhat poignant that I am here to see a Land Rover bicycle being donated to the Charity Cyclethon as it was my family who in 1885 established the Rover safety bicycle, leading to the formation of Rover cars.

"I hope this bike helps to not only raise the profile of the Cyclethon, but lots of money for local charitable causes too."
The Cyclethon starts and ends at the Chamber' base in Binley Road, with the first pedals being pushed at 2pm. Entry details from Ronnie Cocker on 024 7665 4262.