A crime-ridden Coventry industrial estate has been given some obsolete CCTV cameras to try and reduce the number of incidents there.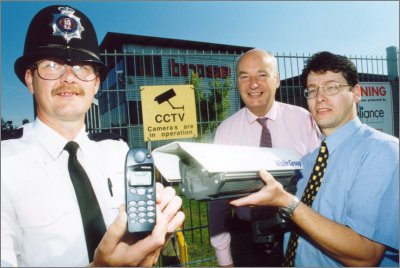 PC SIMON KRAKOWSKI, CHAMBER DIRECTOR NICK MADELEY AND SIMON HEAD FROM BROSE WITH THE EQUIPMENT
Diesel compressors and computers have been stolen in recent months from the Bayton Road industrial estate in Exhall.
So members of the Bayton Road Action Group jumped at the chance to get £15,000 of equipment from one of their members updating their security systems.
Bosses at the Brose automotive components plant decided to give the CCTV cameras, control station and recording equipment when an upgrade to their own system meant they could no longer use it.
The seven-camera system will be installed following a spate of thefts in Bryant Road.
German-owned Brose, which is based in Colliery Lane and has more than 600 employees, have also thrown in a mobile telephone link for community policeman SPC Simon Krakowski to use.
PC Krakowski said the video surveillance system would be a tremendous boost in the fight against crime as it would help identify offenders.
He said:
"Crimes have been committed there on a regular basis at night-time every couple of months.
Simon Head, health and safety adviser at Brose said:
"When security problems on the Bayton Road estate were highlighted at a recent meeting of the steering group, we felt that donating our obsolete equipment would be an ideal way of supporting the project."
Nick Madeley, area director of Coventry and Warwickshire Chamber, which helped set up the Bayton Road group two years ago, said:
"We feel it is a tremendous gesture by Brose."