[13 OCT 00] THE CHAMBER NEWS
Foleshill Firms Get Survival Advice

Independent traders in Foleshill have joined forces to sew off the opposition at out-of-town shopping developments.

They have linked up with The Chamber to get advice on how best to improve their business in the face of extreme competition.

Twenty-three retailers have become members of the Chamber Action group - Foleshill Area Retailers.

One dressmaker is already seeing the benefit of getting help, with advice from Business Link unlocking her business' potential.

Naida Parveen's shop, Misbah, at 411 Foleshill Road, has been built up over the last years, and is used by customers looking for a distinctive alternative to high street fashion.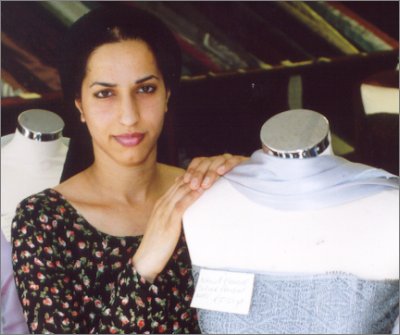 NAIDA PARVEEN
She said that joining CAGFAR had helped her:
"Through the support group I now have access to professional advice and training to help me move forward.

"I have a number of plans for improving the business, initially by re-structuring the shop and changing the layout to make it more accessible to customers."
Specialist retail consultant Paul Ford, a personal business adviser at The Chamber, who is leading the initiative, said:
"Foleshill Road is losing out to newer retail developments and must find alternative ways to attract shoppers.

"Shops such as Misbah have a prosperous future if they work together and use the expertise of The Chamber to learn up-to-date retail practices."