[06 MAR 01] THE CHAMBER NEWS
Katharine Makes Merry With Top Trainees

Rugby-born Olympic medallist Katharine Merry was the perfect special guest on hand to announced prizes to the winners of the Coventry & Warwickshire Training Excellence Awards 2000.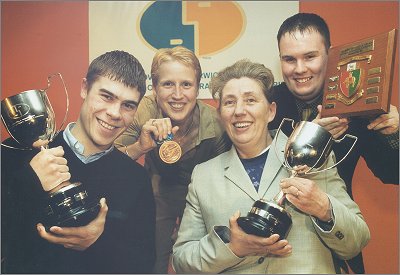 KATHARINE MERRY WITH THE AWARDS WINNERS
Ten years ago Katharine, now aged 26, was a trainee business administrator at the Rugby branch of The Chamber, her only non-athletics related work-experience since leaving school.
From the eighteen nominated Training Excellence finalists from Coventry and Warwickshire, Katharine was given the honour of announcing the three overall winners.
They were (pictured above, left to right) Mark Baverstock aged 18, from Coventry (work based training), Liz James, 49, from Rugby (STEP) and David Rann, 20 from Warwick (Modern Apprenticeship).
The British indoor 400m record holder and Sydney Olympics bronze medallist said:
"Training is the key if you want to become a success, as a lot of the work I do is similar to the guys and girls who have received awards here tonight.

"Without training I wouldn't have had the opportunity to represent my country at the Olympic games last year."
Asked about her teenage years, Katharine recalled:
"Immediately after leaving school I started a placement at the Rugby Chamber, which was tailored around my athletics training, and for 18 months I thoroughly enjoyed myself, working four days a week, and attending college on a Thursday.

"It led to an NVQ qualification in business administration, which I have found extremely useful in managing my own affairs since becoming a professional athlete at the age of 18.

"Running in the Olympics is great, but it is not for everybody, and not every athlete achieves that level of success, so to have something to fall back on is very important, and working for my local Chamber of Commerce was the perfect fit."
Hosting the evening's proceedings was Chamber products and marketing director Nigel Gaynor, who read citations on all 18 finalists (6 STEP, 5 Work-based Training, 7 Modern Apprenticeships), in front of an invited audience, consisting of parents, partners, training providers and employers.
Key speakers during the awards ceremony included Chamber chief executive David Frost, who took up the post in January, Ursula Russell, chair of the Local Learning and Skills Council for Coventry and Warwickshire and Dave Kemble, current master of the Freemens Guild for Coventry, who presented the Modern Apprenticeship winners trophy.
Mr Frost said:
"This event was a great success, which was organised well, and had a real sense of occasion, celebrating the diverse range of trainees in Coventry and Warwickshire.

"We were delighted that Katharine Merry, a local Olympian and former Chamber trainee, was here to present the awards, and we all wish her the best of luck in the world championships in Edmonton in August.

"It was a humbling experience to hear of the efforts that many of the trainees have made in order to get where they are today, and I wish them every future success in their chosen careers. "
In the past 12 months more than 4,000 people in Coventry and Warwickshire have begun one of the training routes.