[04 MAY 99] THE CHAMBER PRESS RELEASE
Modern Apprentices Advance On Holidays

Facing increasingly sophisticated demands from holidaymakers, the Coventry-based Harry Shaw coach company is upgrading the skills of its young employees by offering them all Modern Apprenticeship training in customer services.

Outside of industry, it is the largest investment in Modem Apprenticeships in Coventry and Warwickshire - 44 have signed pledges to complete their training, provided by CWT and backed by The Chamber.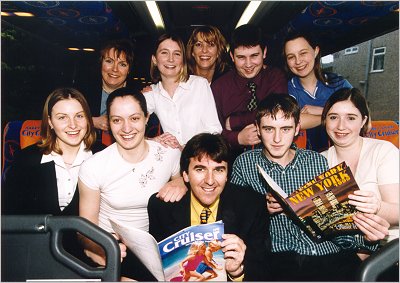 FRONT ROW: WITH MANAGING DIRECTOR ARE FROM LEFT: CAROLINE GOLBY; LIDIA ADAMS; SIMON McCALLUM; JANINE TOLIN. BACK ROW, FROM LEFT: DIANNE WILLIAMS, CWT MANAGING DIRECTOR; JENNIFER CLEMPSON; DEBBIE SCOTTON, CWT BUSINESS DEVELPMENT MANAGER; RICHARD SEDDON; LAURA HARTLEY.
"Young people are the future of the company and we will invest as much as possible in that," said operations manager Tim Novak.
"Our customers' demands are going up and the nature of our business is rapidly changing - all of which demand higher levels of training."
The company is best known for its fleet of 34 orange-coloured luxury coaches running City Cruiser holidays - used by no less than 72 newspapers around Britain for reader offers.
But three years ago the company started offering air package holidays as an alternative.
These now make up ten per cent of the holidays the company sells in 10 countries-and managing director Robert Shaw aims to make them the biggest UK operator for trips to New York.
Already they take 3,000 holidaymakers a year to the 'Big Apple'.
Mr. Shaw said:
"Seventy per cent of our business comes from repeat customers - one of the strengths of being a family business in these days of plc's and conglomerates.

"But obviously all those people have to be happy with our levels of service - and well trained staff give people that reason to come back and not book with anyone else.

"Since we started air travel holidays three years ago we have a much more diverse range of products - and the staff need to be aware of things like the legal aspects."
He added:
"We have been considering how to improve our training for some time, and I must say it has been nice to work with an organisation like CWT which has brought it to fruition - and also constructed a course which is not only relevant to our business but is arming our staff for the future with qualifications and skills."
The 44 young men and women will take NVQs up to Level 3 in customer service and travel services, with training workshops at CWT's headquarters in the former Chamber headquarters in St. Nicholas Street, backed up by one-to-one support in their own offices.
Eight of the team of upcoming travel specialists will work at the company's main offices in Mill Lane, Binley, Coventry. The other 36 are employed at the ten Harry Shaw City Cruiser agencies around the Midlands.
The company, which now employs 200 people and has a fleet of 34 coaches, was effectively founded when Harry Shaw, Robert's father, bought a milk float after completing his National service in the RAF in the late 1940's.
The first coach was purchased in 1964, soon rising to a fleet of ten. Purchasing one of the largest coach companies in the Midlands, Red House, in 1979 gave Harry Shaw the first taste of operating holidays at home and abroad.
New destinations were introduced and development of the travel agencies began culminating in the company gaining its ATOL licence in 1996 and launching into air travel as well.
Today it provides 120,000 holidays a year - not forgetting to maintain a number of the old favourites in and around Britain-and is now one of the largest independent tour operators in the country.
Modem Apprenticeships, with nationally recognised qualifications, are now available in 37 occupations covering a number of office and retailing jobs as well as traditional skills.
MORE INFORMATION: Barry Lloyd-Jones 01203 654260