[13 MAY 99] THE CHAMBER PRESS RELEASE
Hillfields Centre Wins £360,000

Nearly a quarter of a million pounds has been won by The Chamber from English Partnerships to upgrade and extend the employment advice centre in Hillfields, Coventry.

The improvements will include a new access at the side building on to a new 'village square', which is part of the revitalisation of the local shopping centre at a cost of £2.4-million.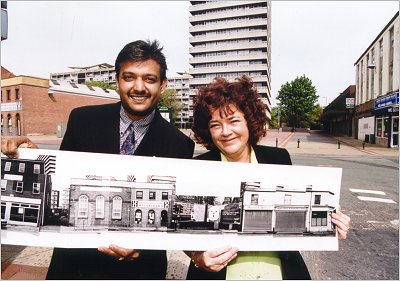 AJAY DESAI AND SHELAGH MULLALLY, FROM THE CHAMBER, CHECK OUT THE NEW VILLAGE SQUARE WHICH HAS REPLACED THE BILL-BOARD FRONTED DERELICT LAND IN HILLFIELDS, AS SEEN IN THEIR BLACK AND WHITE PHOTO. THE EMPLOYMENT ADVICE CENTRE ON THE LEFT IS NOW TO HAVE A NEW ENTRANCE FROM THE VILLAGE SQUARE.

The improvements include a lift for the disabled to get to the first floor Job Club.

The scheme has won £85,000 from the SRB fund (Single Regeneration Budget) and the city council have committed a further £30,000.
"These funds will ensure the long term viability of the centre, which is doing valuable work in helping people in a disadvantaged part of the city," said Chamber external funds co-ordinator Ajay Desai.
The building will be leased at a peppercorn rent to WATCH, the Working Actively to Change Hillfields' company. "
Shelagh Mullally, who is the Chamber's facilities manager, added:
"Ultimately it is hoped that WATCH will be able to take over the building.

"Collectively the projects, sessions and community activities within the building add up to a substantial local resource to play a part in the city's plans for the regeneration of Hillfields."
The improvement of Hillfields shopping centre include new housing to replace derelict shops, a grant scheme to encourage retailers to improve their shops, and a concierge system for the flats.
MORE INFORMATION: Barry Lloyd-Jones 01203 654260