[21 APR 99] WANZL UK PRESS RELEASE
Angela Steers Wanzl Forward

Kineton mother-of-two, Angela Rhys-Taylor, has been appointed to a new marketing and sales support liaison role for shopping equipment manufacturers Warwick-based Wanzl UK.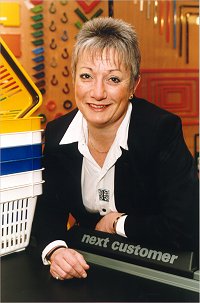 Ms Rhys-Taylor, who has been working as an assistant to managing director Jason Cloke for the past six months, will now take on a more direct role to help build relationships with customers.
She said:
"Wanzl has always been customer-led. We develop our products by listening to what our customers want rather than imposing ideas.

"Our approach requires a great deal of personal contact and liaison at all levels and as Wanzl UK has grown we want to ensure that the personal links are very much in the forefront of what we do.

"It will therefore be my task not only to help develop marketing and sales tactics but to liaise directly with customers to ensure that we maintain those strong communication links."
Her new role will include co-ordinating client visits to the German headquarters of Wanzl, the world's largest manufacturer of shopping equipment, to co-ordinate all UK marketing and public relations strategies and to give vital support to the Wanzl sales team.
Ms Rhys-Taylor has a background in the packaging industry, when she co-managed and owned a company. Previously she set up and ran a help line for the Organisation of Chartered Physiotherapists in Private Practice (OCPPP) as they went through a process of achieving quality and systems accreditation.
She said:
"One way or another I have been involved in sales and support for many years. Wanzl itself is growing and Wanzl UK saw sales of trolleys and other equipment rise by around 40 per cent last year alone. The coming years bring exciting challenges as the nature of shopping changes.

"As a mother of two teenage boys, I can understand the shopper's point of view but I am looking forward to getting to know more of our customers and understanding their needs in far more detail."
As if helping to drive Wanzl's marketing and sales strategies forward is not enough, in her spare time Ms Rhys-Taylor can be found behind the driving wheel as she practises for the Institute of Advanced Motorists qualification.

MORE INFORMATION: Jane Grant or Andrea Harper, PR Support 01926 425533