[06 OCT 98] WANZL UK PRESS RELEASE
Andy's On His Bike For Charity

Wanzl UK commercial manager Andy Phillips will be using pedal power to raise more than £2,000 to help deaf children when he takes part in a mammoth bike ride in the Caribbean.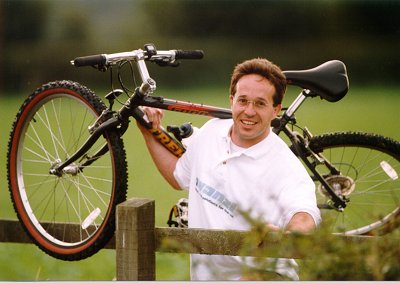 WANZL'S UK COMMERCIAL MANAGER ANDY PHILLIPS

Andy, 34, from Selly Park, Birmingham, is amongst those who have taken up the National Deaf Children's Society (NDCS) 'Cycle Cuba' challenge to complete a 250-mile route from Havana to Trinidad in just six days.

Warwick-based Wanzl UK, which is part of the world's leading retail equipment design and manufacturing group, together with business contacts, colleagues and friends are already pledged to sponsor him.

Andy explained:
"I have always wanted to go to Cuba and the chance to see so much of the countryside and take part in this event and raise some money for a deserving charity was too good to miss."
Andy, who will be flying out to Cuba on 10 October, admits it is some time since he did any serious cycling but he has kept fit in the gym and through water sports.

Anyone wishing to sponsor him should make cheques payable to NDCS Cycle Cuba and send them to Andy care of Wanzl UK at Europa House, Heathcote Lane, Warwick, CV34 6SP.

MORE INFORMATION: Jane Grant, PR Support 01926 624994