[03 MAR 99] WANZL UK PRESS RELEASE
Driver Des Steers Delivery Revolution

Wanzl UK's leading driver Des Queenan has come up with a revolutionary design which is set to improve deliveries across the Wanzl fleet.

For the last five months, whenever Des has not been on the road he has been designing, specifying and recently taking delivery of a new customised truck.

Des, who has worked for Wanzl as their number one driver for ten years, explained:
"We knew the useable life of our existing lorries was coming to an end, and because of my knowledge and experience gained in the transportation and packaging and delivery of retail equipment, I was asked to design the vehicle."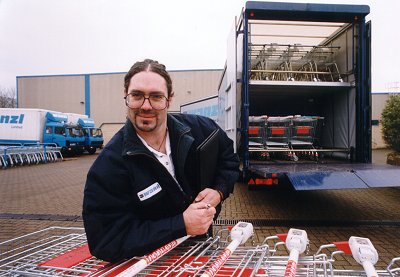 DES QUEENAN WITH WANZL'S NEW-LOOK LORRY

The result is a truck which features a low profile chassis for easy unloading, whatever the circumstances. Inside the lorry is an aluminium second decking system for double stacking to increase effective use of the space available. An additional trailer unit gives added flexibility.

The new design will enable up to 150 more trolleys or two full store loads to be safely delivered at any one time - cutting customer's lead times.

Des's involvement is part of a continuous improvement scheme, based on the Japanese management technique - Kaizen, which is at the heart of the Wanzl philosophy.

Wanzl UK managing director Jason Cloke, and commercial manager Andy Phillips say the success of Kaizen lies in harnessing the power of the team, involving Wanzl personnel in developing their skills to become responsible for new innovations and improved work processes.

Jason explained:
"In Des, for instance, we knew he was a good artist. He has a knack of drawing caricatures of staff, for a start. We also knew that his years of experience on the road meant that if anyone could develop our own design, then he was that person."
The first of the new-look lorries has already been delivered and several more are in production.
Jason added:
"I am working with a fantastically committed and motivated team and everybody is optimistic about the future. The Kaizen philosophy is one of the valuable tools we have used to bring about an upturn in turnover, a transformation in company image, and a very healthy order book."
MORE INFORMATION: Jane Grant or Andrea Harper, PR Support 01926 425533