[04 NOV 99] WARMEAD LIGHTING PRESS RELEASE
Warmmead Lighting Wins Good Practice Award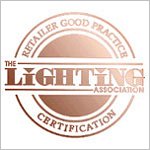 Local independent lighting retailer Warmmead Lighting of Holyhead Road, Coventry has been awarded with The Lighting Association's Retailer Good Practice Certification.
Warmmead is only the fourth retailer to be awarded with this Certification from over 4000 independent lighting retailers throughout the UK.
This award is a result of many months hard work from the local retailer and lighting designer who was put through his paces at his Holyhead Road showroom by The Lighting Association Technical Manager, Kevin Kearney.
The Retailer Good Practice Certification was introduced by The Lighting Association for Retail Members to increase their confidence in providing safe products for sale. The certification also requires members to display products safely; employ a proper after sales service and train employees with regard to lighting and lighting products.
Mr Nigel Dawes, Managing Director believes this certification is the way forward for his business because he sees it as a marketing tool to help him differentiate from other larger retailers of lighting. The accreditation also ensures their customers that they are dealing with a professional organisation, dedicated to selling safe and reliable luminaires.
Warmmead Lighting ensures all lighting staff are fully trained and aware of important issues when dealing with the sale of lighting/electrical products by enrolling them on the Product Knowledge and Foundation Study course run by The Lighting Association. This enables Nigel and his staff to give customers sound professional advice on all their lighting requirements.
Nigel Dawes who is a proactive member of The Lighting Association's Lighting Retail Committee said:
"This Certification will enable us to move forward into the next millennium as part of an elite group of lighting retailers who can offer, quality, value and enhanced customer service."
Accredited retail outlets can be easily identified through a new logo, which has been developed by the Lighting Association to help customers identify accredited stores throughout the country. The new logo is a sign of approval and quality and when a customer sees it they will be assured of the best service and advice that they can receive.

MORE INFORMATION:
Alan Davies, The Lighting Association 01952 290905