[17 FEB 99] BUSINESS NEWS
Cab Firm Wants To Move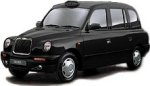 The famous black cabs will no longer be built in Holyhead Road, Coventry if the planners agree an application by London Taxis International.
The company, whose product is recognisable throughout the world, want to double the size of its manufacturing base and that means moving away from the old ten acre site next to the Alvis railway bridge which it has occupied since the 1920s. It is proposed the existing site will be used for housing and shops.
LTI has applied to Coventry's planners to move lock, stock and barrel to a 20 acre site at the Coventry Colliery development.
It is the first world-renowned company to flag a commitment to moving to the new site.
The company has been planning for several months to move from its current cramped factory premises but had been unable to find a suitable site. At one stage it considered severing its longstanding connection with the city, but now is happy to stay just inside the northern edge of the Coventry boundary.
If it gets planning approval the firm plans to improve its taxis to gain a foothold in the North American market and it will also manufacture left-hand drive cabs. It is hoped to increase production to 5,000 vehicles a year. The company made 75 workers redundant just before Christmas.
Barry Widdowson, Group Managing Director said:
"We cannot expand on our current site because we are surrounded by housing. It will take two years to make the move because there is a lot of preparatory and planning work to be done."
Councillor Sheila Collins, chairman of the planning committee said:
"This shows real confidence in our regeneration proposals for the north of Coventry."
RELATED STORIES:
[28 OCT 98] LTI ON THE MOVE?
[10 FEB 99] £5M EURO GRANT FOR COLLIERY SITE DEVELOPMENT