[30 SEP 98] COMMUNITY NEWS
Ethnic Protest At Coventry Council House

Coventry's Ethnic Minority Alliance this afternoon staged a protest against the city council's rejection of their funding bids for Foleshill training projects.

The protest outside the Council House attracted dozens of placard waving supporters and took place whilst a council committee discussing the issue was taking place behind closed doors.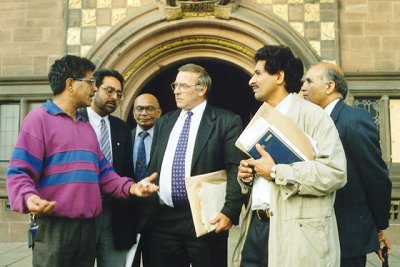 MEMBERS OF EMA DEBATING THE ISSUES WITH CLLR JOHN MUTTON (CENTRE)
OUTSIDE THE COUNCIL HOUSE
The ethnic group is claiming the city council has racial motives for turning down their funding applications. One of the applications they have made is for £425,000 from the Single Regeneration Bid Challenge Fund available for local capacity building projects in the Foleshill area of the city. The group's bid forms part of an overall £0.75m package to develop a 'One Stop Shop' training and education project for the area.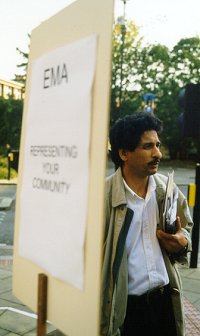 The 'One Stop Shop' project is to be led by the Ethnic Minority Alliance (EMA) in partnership with the Employment Service, Coventry and Warwickshire Chamber of Commerce, Training and Enterprise, Coventry City Council's Community Education Service, three Further Education colleges and both Coventry University and the University of Warwick.
Coventry Council officers have recommended the Council's Community Affairs Policy Committee to turn down the projects as they "are not yet in a form capable of approval". The Committee moved to private session to discuss the issue after it was revealed that the Council had just received a letter from EMA's solicitors. The community group is calling for a judicial review of the decision of a council officer.
The Ethnic Minority Alliance (EMA) claims to have the support of 80% of ethnic minority communities in Coventry. The organisation was formed some months ago from a merger between two rival groups EMDA and EMDA Ltd.