[14 FEB 01] COVENTRY 18 PLUS NEWS
Coventry 18 Plus Hunting Old Faces

A Coventry social group that played a role in the lives of hundreds of young adults in the city is seeking out its old members for a reunion.

Coventry 18 Plus was formed in June 1964, probably with a meeting at Cheylesmore Community Centre. The group arranges voluntary and social activities for people aged between 18 and 35.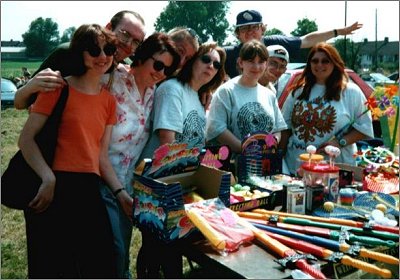 MEMBERS OF COVENTRY 18 PLUS - NOW CALLED COVENTRY ACTIVE PLUS
Other groups followed in Holbrooks and Stoke Aldermoor, and then spread to towns in Warwickshire in the 1960s.
Today's members are trying to piece together details to add to the potted history of Coventry 18 Plus in time for the diamond anniversary of the national organisation in April.
The Coventry groups developed into Coventry Central, Coventry South and Coventry North in the 1970s. In the early eighties they re-merged as Coventry Central.
It now operates under an experimental name "Coventry Active Plus".
Spokesman Jarrett Smith said:
"Looking through the group archive has thrown up many questions - only past members can give the answers to.

"If you have ever been a member of any of the Coventry or surrounding 18 Plus groups you are formally invited to the 'Reunion Dance' on Saturday 21 April at the Britannia Hotel.
For more details please phone Darren or Sarah on 024 7630 7375 or email covplus@postmaster.co.uk
People are also welcome to come to meetings every Wednesday from 8.45pm at the Gas Sports & Social Club in Middleborough Road, Radford.