[23 FEB 01] COVENTRY CITY FARM NEWS
City Farm Is Cockle-A-Doodle Open!

Coventry's City Farm has been given a clean bill of health and is still open despite the foot and mouth scare.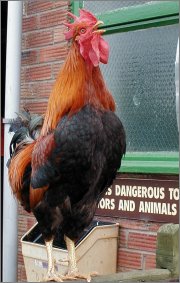 Government inspectors visited earlier this week and said that the farm in Clarence Street, Hillfields was safe from infection.
The farm, which gives people living in the city the chance to see animals, has not got any pigs, which are affected by the disease.
And the only calf was sold two weeks ago, so the farm is free of any animals that can be affected by the infection.
Manager Pat Baldwin said:
"We had our annual inspection and passed with flying colours and we are going to stay open until we hear anything different."
Some parts of the country are being closed to humans, who can carry the disease to vulnerable livestock, and people have been urged to stay away from the Warwickshire countryside in case they spread the infection.
SEE [23 FEB 01] FOOT AND MOUTH WARNING TO LOCAL WALKERS