[12 JUL 99] SPON END FORUM PRESS RELEASE
Spon End Wakes Festival A Great Success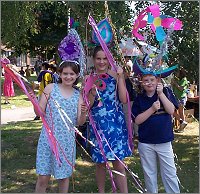 The Spon End Wakes Festival held on Saturday 10 July was declared a great success by both organisers and those taking part.
It was the first time that the event had been held for over 100 years and thousands flocked to Spon End to enjoy the festivities and the sunshine.
Among those taking part was Lady Godiva, Pru Porretta, who said that she enjoyed the the event immensely. She led a dancing pantomime horse at the head of a marching band and childrens procession, along Upper Spon Street and Windsor Street.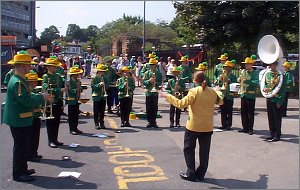 The children, from Spon Gate Primary and St Osbergs Primary Schools wore a variety of brightly coloured costumes.
Also present were local councillors and the Deputy Lord Mayor.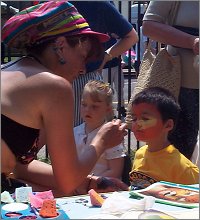 Upper Spon Street was closed for the day and was the venue for a fun fair and community stalls. There was a garden party at the Grapevine Centre and fetes at Spon Gate School and Koco Nursery.
A history walk around the area, led by Mark Cook, attracted a great deal of interest and 80 people, joined the tour along Spon Street and through Spon End's old watchmaking area and on to the Arches.

The Festivities continued late into the night at a number of Spon End pubs.
There was a very small police presence and no reports of any incidents.
The Festival was organised through voluntary effort by the Spon End Forum and was made possible with financial support from the City Council Arts Fund and Area Coordination.
Chair of the Festival Committee Colin Walker, thanked everyone for their help and support and said he was extremely pleased with the outcome:
"This has gone far better than any of us imagined and will establish a firm foundation on which the Wakes can continue."
Preparations are already underway for the 2000 Wakes which will be held on 15 July next year. A meeting has been organised for all those who wish to help in its organisation and will be held on Monday 16 August at 7.30pm at Koco, The Arches, Spon End.
MORE INFORMATION:
Colin Walker Spon End Chair 0411 972272