[13 AUG 01] SPON END FORUM NEWS
Heritage Trails Sketched Out For Spon End

A community led initiative to establish two new heritage trails has begun with the installation of 14 new illustrated panels in Spon Street subway.

The panels, which were specially commissioned for the subway, depict Spon End street scenes and buildings in the area that have long since disappeared.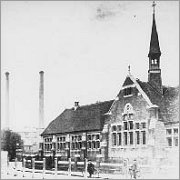 The work was commissioned by the Spon End Community Forum and funded by Coventry City Council. The panels have been designed by graphic design students from the School of Art and Design at Coventry University from images researched and collected by members of the Spon End community.
The panels, and a new information board soon to be installed in Spon Street, mark the start of two new heritage trails that will guide people through the Spon End and Nauls Mill area to the Chapelfields and Canal Basin Conservation areas.
The Spon End and Nauls Mill area has recently been declared an 'Area of Local Distinctiveness' by Coventry City Council and the heritage trail will included signage and information panels explaining the area's long history and providing information about many historic landmarks.
Colin Walker, Chair of the Spon End Forum said:
"The panels are not only attractive pieces of art in their own right but are also an important record of the areas history, giving people a glimpse of how Spon End used to be".
It is hoped that work on the next phase of the heritage trails can begin in the autumn.
SEE ALSO: [05 AUG 01] LOCAL RESIDENTS SUPPORT SUBWAY MURALS