[25 OCT 00] CW2000 PRESS RELEASE
Business Support Boost For CW2000

Businesses throughout Coventry and Warwickshire are being offered an unbeatable package of IT services through a Chamber-led initiative.

CW2000 offers smaller firms the necessary desktop hardware and software and a high-speed internet link, as well as training and support, all within a cost-effective package, which includes free data calls for the first year.

The project is the brainchild of the Business Support Partnership in Coventry and Warwickshire, whose aim is to help local firms improve their competitiveness through encouraging take-up of the latest information and communication technologies.

Recent research carried out by The Chamber revealed that, although 70 per cent of firms in the county use IT or computers, and 73 per cent have access to the internet, few companies are fully exploiting all the opportunities technology presents. Only 32 per cent of companies have their own website.

Malcolm Gillespie, chief executive of The Chamber and chairman of the CW2000 steering group, said:
"Many businesses are keen to explore the use of the Internet and e-commerce, but, either through lack of knowledge or support, are wary of the complexities associated with introducing new IT-based systems into their operations.

"CW2000 aims to free them from these concerns so they can concentrate on exploiting the technology, using it as a tool to improve their performance.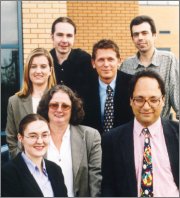 The seven-strong CW2000 team (right) is based at the TechnoCentre at Coventry University Technology Park, and is headed by Klitos Andrea, seconded from Coventry University to direct the project.
Qualifying companies are being offered a multi-media desk-top computer with high-speed ADSL link and training for as little as £600, but must be located within an Objective 2 area which qualifies for Government funding.
CW2000 is backed by funding from the European Regional Development Fund, which makes it possible to subsidise the package for eligible companies. It is also supported by a number of private sector firms including BT, Hewlett Packard, NTL and Sony, all of whom are committing significant resources.